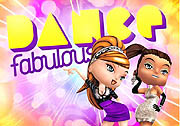 Hi Gamelidz readers,
Another great news for N-Gage users all across the world. The new
N gage games
titled "Dance Fabulous" is set to be released amongst other 1st party and 3rd party titles on N-Gage. If you like dance music type of gameplay, so this game will suit you well. Last i heard, musician, Dave Stewart and Interscope records is set to be joint the collaboration with
N Gage games
. It is described as a mash-up between music and gaming, where players will need to create their choreography and collect points into the dancing moves.
For information, in your own avatars, you can mix and match amongst the variety of dance styles also with the dance sets, and thus the players will have the chance to share their own moves with friends and other players in
N Gage games
arena.
Dance Fabulous also introduces a new artist, Cindy Gomez, including a dancing Gomez avatar and her songs. Gomez's debut single Again & Again has been released in Nokia Music Store. Her debut album coming later this year will also be available for download in Nokia Music Store.
Anyway, if you have a
symbian 3rd edition with N-Gage compability
, then hurry join us, N-Gage users all across the world. Begin to the tutorial step by step
"how to install N-Gage games"
. Many titles have been rolled out such as :
Resident Evil Degeneration
,
Metal Gear Solid
, FIFA 09, and other stunning N Gage games.